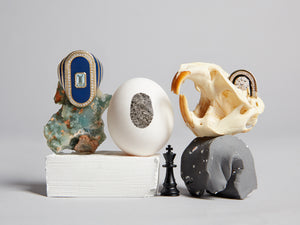 The Voyager
The Voyager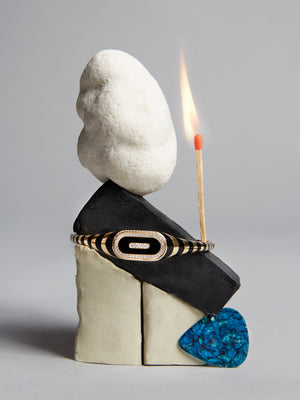 State Property's collection, The Voyager, is fuelled by the spirit of extraordinary adventure. Compelled by Carl Sagan's Golden Record phonographs on the Voyager 1 and 2 spacecrafts, this collection is steered by the greater urge to seek.
Recognising that journeys are ongoing narratives, this is a voyage propelled by experiences, memories and lessons past. In the true spirit of adventure, serendipity lies at the core of this journey — new encounters and discoveries yet to be experienced.
Amidst it all, The Voyager holds true to itself and lets all else take shape around it.
Somewhere, something incredible is waiting to be known
Carl Sagan
Abstractions of a journey come alive through rings, bangles, earrings and necklaces, each strikingly bedecked, in various colours, with enamel. A distinctive striped motif is seen throughout the collection, carefully designed to reflect how the Voyager impresses upon its surroundings - leaving trails, and radiating signals of a purposed presence.
The strong colours and bold silhouettes of this collection borrow the regal presence of Cleopatra, projecting an unflinching sense of confidence. Designed for the dauntless ones, these expressive pieces channel your inner adventurer.