As Carl Sagan put it, extraordinary claims require extraordinary evidence. And what more extraordinary than a one-of-a-kind engagement ring. Read on to see some examples of the extraordinary evidence we have had the privilege of working on.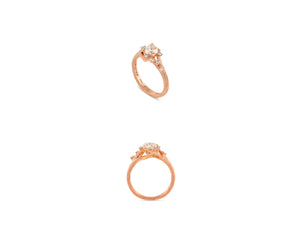 Rings of Love Entwined
He came to us looking for a ring that could fully embody his adoration for his extraordinary lady, and encapsulate their adventure together thus far.
This ring takes inspiration from their time studying in Australia, and fond memories of Jacaranda trees that symbolise their love for the outdoors, and wanderlust. This was expressed in the form of branches converging around a white diamond center stone, with a spray of smaller white diamonds.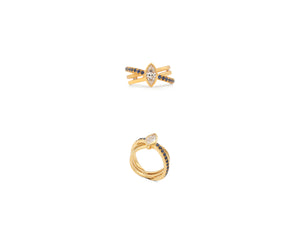 Where the Axes of Love Meet
Designing the perfect engagement ring for the perfect woman is a delicate task. This distinctive ring was made by the fusing of three individual rings, representing values dearest to the couple — patience, honesty and love.
Deep blue sapphires dot one of the rings in a full eternity in a beautiful contrast to the 22K Yellow Gold that was specifically requested by the family. The other two bands are adjoined by three pairs of diamonds, emphasising the three values further.
But the true beauty lies in another detail. This ring was designed to turns on its axis, satisfying the wearer's habit of fidgeting with jewellery. A combination of brushed matte and high polish finishings are used to add texture to the piece. Topping it off, a marquise diamond sits at the center of the three bands, bezel-set to remain wearable under the latex gloves the wearer dons at work.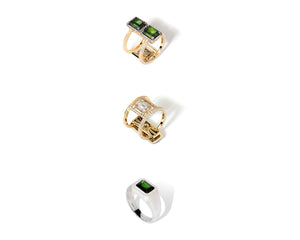 Double Trouble
Celebrating an engagement is a momentous occasion for both. These rings were made as marks of a perfect union, for both the lady and man.
Three identical bottle green tourmalines were rearranged into a signet 'Man-gagement' ring for him and a dual-sided Engagement ring for her.
For him: A bezel-set green tourmaline combined with brushed matte and high polish finishings add a touch of intrigue to a classic signet form. Topped off with custom engravings on the inner shank, this is a ring designed for him to be able to wear comfortably everyday.
For her: A piece that unabashedly celebrates this engagement, this dual-sided ring has two prong-set tourmalines with diamond halos as one of its focal points. Nine smaller diamonds encircle the bottom of the gallery as a special and hidden surprise, from him to her. The diamond-lined shanks lead up to a second side to this ring, a framed emerald shape precision-cut diamond. This is a ring to start the conversations about all the years shared together, and the many joyous ones to come.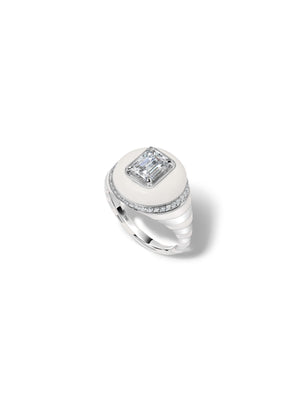 Bespoke Engagement Rings
As Carl Sagan put it, extraordinary claims require extraordinary evidence. And what more extraordinary than a one-of-a-kind engagement ring.
Find out more →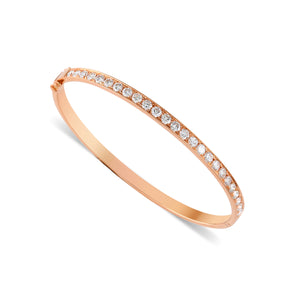 Bespoke Si Dian Jin (四点金)
We value tradition at State Property. And through our Bespoke Si Dian Jin service, we offer a balance of both tradition and currency, resulting in wearable pieces imbued with meaning.
Find out more →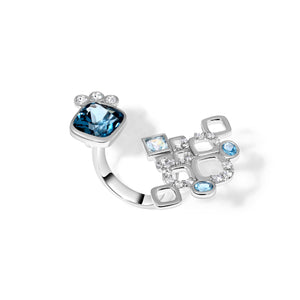 Bespoke Wedding Jewellery
Commission bespoke jewellery to complete your look on your big day, and mark this major milestone with jewellery unique to you.
Get in touch →