True luxury is when you know that what you have is one-of-a-kind, and bespoke only to you. Through our Realise service, we collaborate with our clients to design a bespoke piece of fine jewellery from scratch. Be it to celebrate a rare gem that you have procured, or to mark a truly special occasion.
Read on for stories that we are honoured to have been a part of.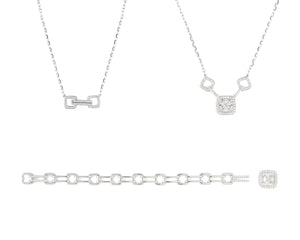 Diamond Two Ways
Sometimes, the best gifts are the ones we give ourselves. In this case, it was a bracelet, necklace, and a 2 carat cushion-cut diamond.
The twist here is that the client wanted to be able to wear her diamond two ways. So we designed a set of jewellery with the versatility required of the pieces in mind.
The concealed clasp system is the key to the design. The cushion-cut diamond is set in a floating halo and can be clasped to both the bracelet and necklace seamlessly, allowing our client to move the diamond to either piece as she wanted. The bracelet and necklace could also be clasped onto themselves to be worn without the diamond, without looking like they are missing anything. So with or without, it really doesn't matter.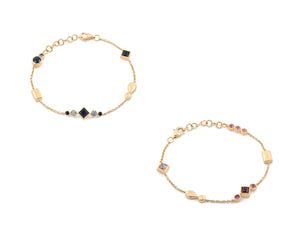 Celebrating New Additions
Welcoming a newborn into the family is always an occasion to be celebrated. What more when there are two of them.
Traditionally, the giving of a gold gift from the grandparents to the grandchild at their one-month celebration is a show of their deep love. We were commissioned to design a pair of his and hers baby bracelets. But our client wanted a design that would enable the bracelet to continue being used as her children grew up.
Steering clear of child-like aesthetics, the bracelet has been designed to be timeless and ageless in its allure. Sprinkles of gold and sapphire charms adorn a chain that is adjustable in length, ensuring that the child will never outgrow it.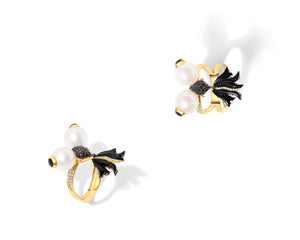 Goldfinger
This was a particularly fun one. Our client came to us to commission a ring that was designed around two pearls she had. During our consultations, we found out that she is an avid collector of goldfish rings.
We felt the pearls lent themselves beautifully to an exaggerated goldfish form and designed this ring that not only fits nicely into her collection, but celebrated the pearls in an unexpected way.
Each eye is made of a pearl and an onyx cap rimmed with gold. The flowing tail is carved out of onyx with a line of white diamonds down the middle, whilst black diamonds mimic the scales on the body of the fish. And for better balance and comfort, the goldfish is set on a split shank. Needless to say, this was one of our favourite pieces to work on.
Our Bespoke Services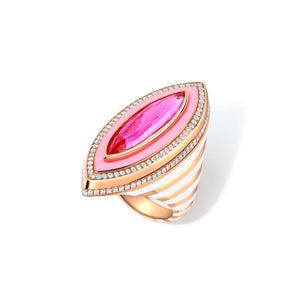 Realise
Turn imagination into reality. Build a truly bespoke piece from the ground up.
Find out more →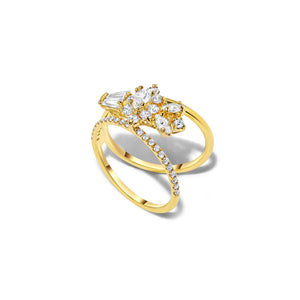 Reimagine
Transform a past decision into a piece that represents your current-day self.
Find out more →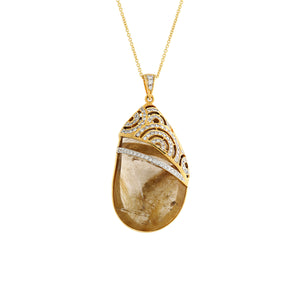 Restore
Breathe new life into beloved jewellery that have weathered the test of time.
Find out more →