We know the feeling when we suddenly realise that a piece of fine jewellery that we own no longer suits our needs, or perhaps doesn't reflect our sense of style any longer. With our Reimagine service, we can help you with exactly that.
This is where you can bring those pieces that have been left to sit in the jewellery box, and to turn it into something that is worthy of the person you are today.
Read on for stories that we are honoured to have been a part of.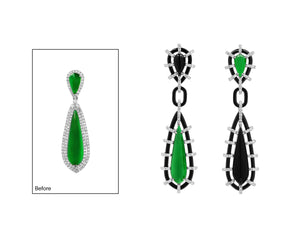 Jade Update
Looking to breathe new life into her jade, our client came to us to design around two tear-drop jade pieces originally set as a pendant.
Given her interest in jewellery and wide knowledge of the historical periods of fine jewellery styles, we decided to work our strengths and propose a contemporary design inspired by the Art Deco period.
Given the length of the jade, we felt that a pair of earrings would best suit the stone, and opted for the classic colour combination of white, black and green. Artfully carved onyx accent the jade, whilst radiating loops of white diamonds lend the piece a striking silhouette. The asymmetrical colour also brings a modernity to the piece.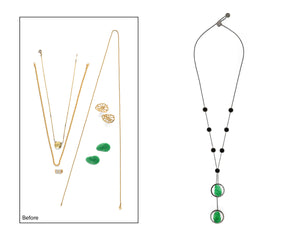 The Modernised Heirloom
Reworking traditional jewellery with a contemporary flair; this necklace was designed for our client who saw her personal taste transform over the years. She came to us with a pair of traditional jade earrings, gifted to her by her mother, for her wedding. She consulted us about refashioning the jade to create something that could work as both an occasion and everyday piece to complement her professional life.
Keeping in mind her appreciation for fine details, yet fashion-forward and sleek style, we designed a necklace that would put the unique shape and engravings of the jade at the forefront. A simple claw setting was used around the stones. Circular frames were added as a play on geometric structures, contrasting the organic look of the jade. To accentuate asymmetry, pavé-set white diamonds line the frame as partial borders.
This necklace was purposed with an adjustable clasp, threaded through the chain, allowing the wearer to adjust the placement of the necklace as she wishes. The lower jade pendant was also made with a single connecting chain so that it would sway gently with movement.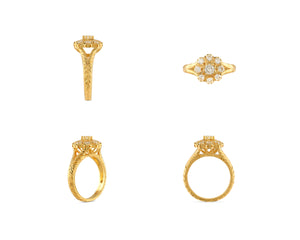 Golden Button
Jewellery deserves to be worn; and we are particularly keen on reimagining it for the wearer as they grow out of it. This client came to us with an exquisite collar button that was very dear to her, and was a special addition to her ensemble.
When she started wearing a scarf, or tudung, the button could not serve its purpose any longer. She came to us, wanting to restore its former glory as a statement jewellery piece. Recognising the intricacy and brilliancy of the button, we believed a ring would be most suitable. An 18K Yellow Gold split-shank with intricate hand-carved detailing was crafted to highlight purposeful lines and curves on the button. The prongs on the ring were set markedly high, to bring out the most of the diamonds.
Our Bespoke Services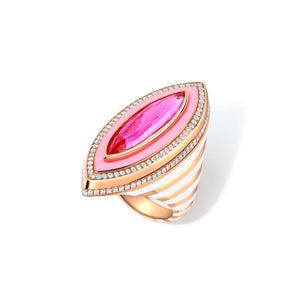 Realise
Turn imagination into reality. Build a truly bespoke piece from the ground up.
Find out more →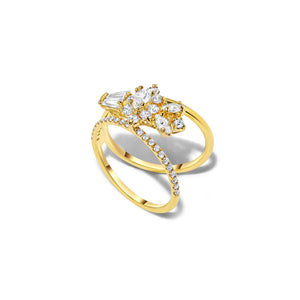 Reimagine
Transform a past decision into a piece that represents your current-day self.
Find out more →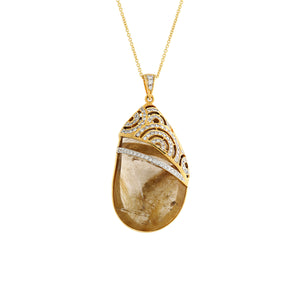 Restore
Breathe new life into beloved jewellery that have weathered the test of time.
Find out more →